CYST TREATMENT IN CHEADLE, MANCHESTER
Cysts are soft to firm swellings which appear just under the skin, they are often yellow or white and may have a small dark area through which you can squeeze out pus. They contain a discharge which can stretch the cyst wall which in some cases can rupture and cause infection under the skin. Cysts are common and harmless and may disappear without any treatment but can become infected causing them to be tender and sore.
It can be hard to tell whether a lump which has appeared on the skin is a cyst or something else which may need treating. If you have any lump form on the skin it is important to get it checked by a doctor to get it properly diagnosed.
Alternative names: Sebaceous cyst, epidermoid cyst, pilar cyst, acne cyst, comedone, nodulocystic acne, steatocystoma multiplex, pilonidal cyst, myxoid cyst, boil, abscess, furuncle.
Cysts are typically formed when the cells in the upper layer of the skin produces keratin, which should remain in this top layer but instead move deeper into the skin and form a sac. This sac produces oils, hormones, and bacteria and acts as a store for keratin, creating a thick yellow paste that forms the cyst. While anyone can develop these cysts, they are more likely to occur following puberty or after having acne or as a result of injury to the skin or hair follicle. Although recurrent cysts may occur from time to time, there are treatments that can eradicate symptoms and reduce discomfort.
WHAT ARE THE SYMPTOMS OF CYSTS
One of the main types of cyst which appears on the skin is called an epidermoid cyst and these are usually found on the face, neck, chest, shoulders and around the genitals. These are usually associated with acne and are most common in young and middle aged adults. Pilar cysts are also relatively common and are formed around hair follicles so are often seen on the scalp. These run in families and are mostly seen in middle-aged women. Cysts look different depending in whether they are acutely inflamed/infected or chronic. Acute inflamed cysts look like tender red swellings on the skin, sometimes with a punctum in the centre that 'leaks' fluid, occasionally with a white pustular head. Chronic cysts are soft, smooth spherical swellings under the skin. Pilar cysts are often in the scalp and can be quite large, occasionally causing permanent hair loss over the surface skin.
It is always advisable to seek professional medical advice before making any decision regarding the removal of a cyst. A small cyst that is not causing any problems may not need to be removed, however applying a warm flannel against it can help to reduce inflammation and encourage healing. Self-popping must be avoided at all costs as this can quite easily lead to infection. For those who are more uncomfortable with the sight of a cyst, or experience particularly painful inflammation, excision, steroid injection and laser treatment are options to consider. Should you wish more information on removal of the cyst then please do not hesitate in getting in touch and your healthcare provider will gladly discuss your options with you further.
FREQUENTLY ASKED QUESTIONS
Please fill in this form and one of our team will give you a call back to arrange a consultation with one of our expert dermatologists.
"*" indicates required fields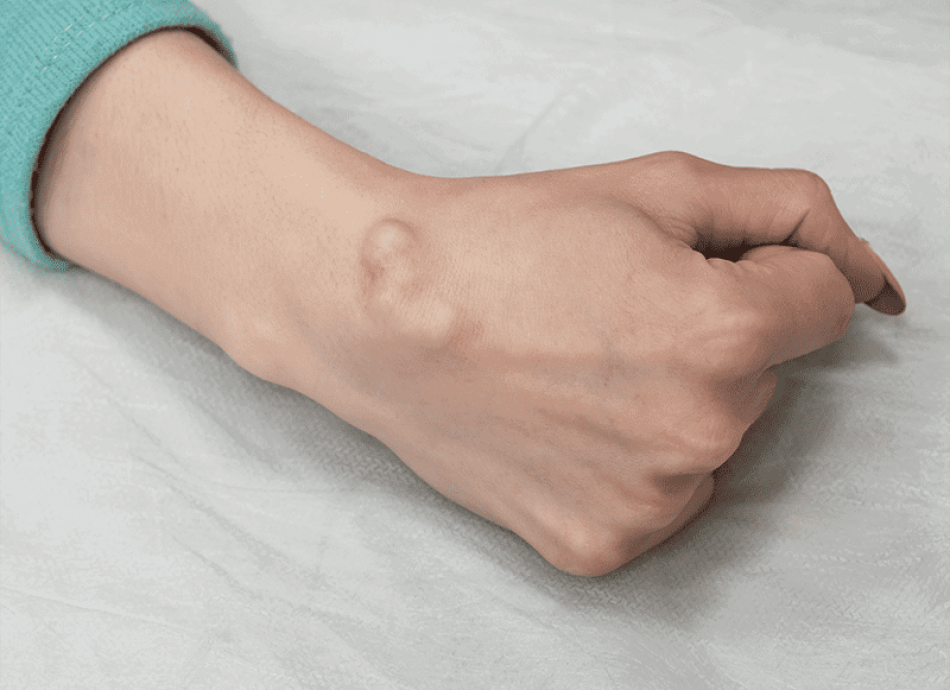 WHY HAVE cyst removal AT EVERYTHING SKIN CLINIC IN MANCHESTER?
At Everything Skin Clinic™, we have a team of highly trained Consultant dermatologists, who have completed specialist training in Dermatology and are on the specialist register of the General Medical Council. All our consultants hold substantive contracts with the best Dermatology centres in leading NHS hospitals. Therefore, you can be certain of the highest quality private care.
We offer a range of treatments and can offer one, or a combination of treatments to achieve the best results. Unlike many other clinics, we can offer diagnosis and treatment all under one roof by expert consultant dermatologist, so you know you'll be in safe hands.