Specialist advice from an acne dermatologist in manchester
Acne is one of the most common skin conditions in the UK which affects most people at some point in their lives, however, severity and longevity of the condition varies. Acne is an inflammatory skin condition which leads to oily skin and the development of spots, including blackheads and whiteheads, on the skin. For many, acne only lasts for a short time during puberty when hormone levels are changing, however, for some, the effects of acne last much longer and can bring pain, scarring, and embarrassment.
Alternative names: acne vulgaris, acne rosacea, nodulocystic acne, folliculitis, cysts, pimples, boils, furuncles, blemishes, spots, zits, blackheads, whiteheads, comedones.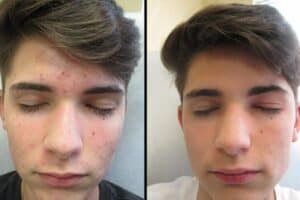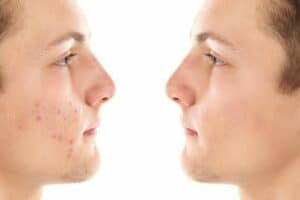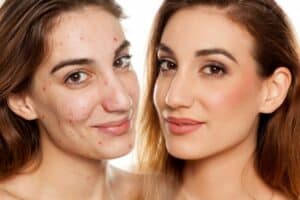 What Are The Symptoms Of Acne?
The main symptom of acne is the appearance of a large volume of spots on the skin. Acne can develop on the face, back and chest and is a combination of blackheads, inflamed spots, cysts and pustules. In some severe instances, the scalp, armpits and groin can also be affected. More severe acne can leave scarring which can be pit-like, crater-like or bumpy. To avoid scarring, it is vital to treat acne before this stage.
Acne usually gets better over a year or two, so the first line of treatment is to simply suppress the inflammation until the acne disappears. This treatment might involve lotions or tablets such as topical retinoids, oral or topical antibiotics or hormone suppression in the form of a contraceptive pill (for females only). However, acne that is very disfiguring, scarring or long-standing, when it could be classed as more severe, can often require stronger treatment.
We offer a range of acne treatments specifically for those who suffer from acne, as well as treatments for acne scarring, but as it is a complex condition with varying levels of severity, our acne dermatologist Manchester will advise you on the most appropriate treatment plan for you during your consultation.
We will often recommend a staged approach over a period of time where each stage will produce some improvement and together they will produce a worthwhile, sustained improvement. Your consultant will discuss with you the benefits and potential side effects of each treatment that might be suitable for you, enabling a joint decision about how to care for your skin is reached.
FREQUENTLY ASKED QUESTIONS
Please fill in this form and one of our team will give you a call back to arrange a consultation with one of our expert dermatologists.
"*" indicates required fields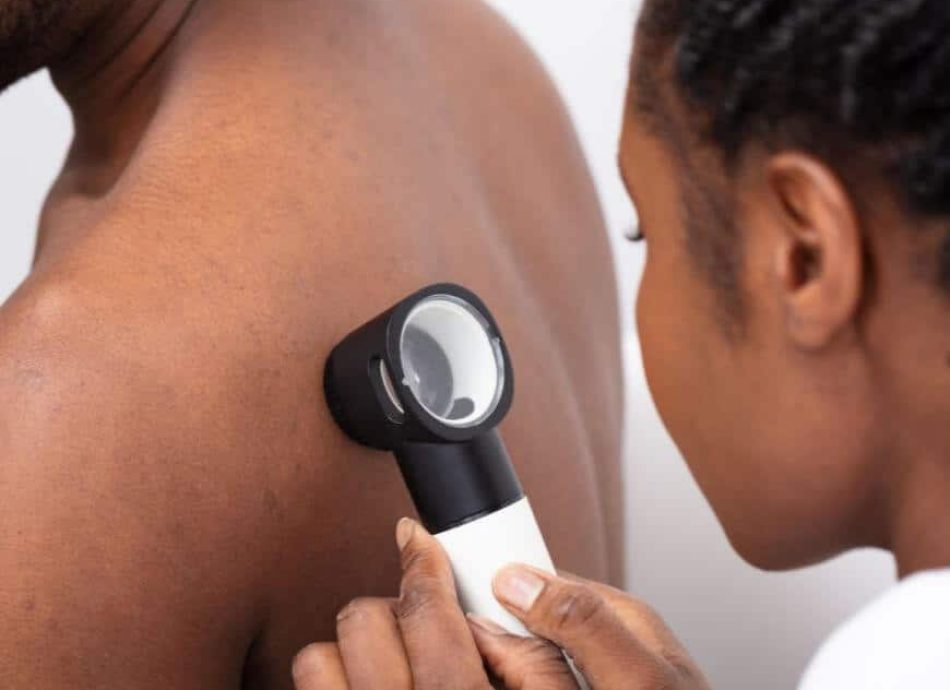 acne dermatologist manchester Treatment Process:
WHY choose an acne dermatologist in manchester from EVERYTHING SKIN CLINIC?
At Everything Skin Clinic™, we have a team of highly trained Consultant dermatologists, who have completed specialist training in Dermatology and are on the specialist register of the General Medical Council. All our consultants hold substantive contracts with the best Dermatology centres in leading NHS hospitals. Therefore, you can be certain of the highest quality private care.
We offer a range of treatments and can offer one, or a combination of treatments to achieve the best results. Unlike many other clinics, we can offer diagnosis and treatment all under one roof by expert consultant dermatologist, so you know you'll be in safe hands.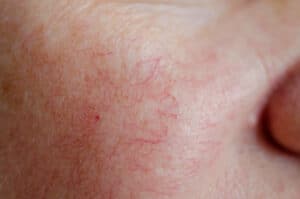 Spider Vein Treatment at Everything Skin Clinic Are you tired of constantly having to cover up your spider veins, or thread veins on the face with heavy make-up, or those on the legs with thick tights or trousers? Spider veins are the nickname that is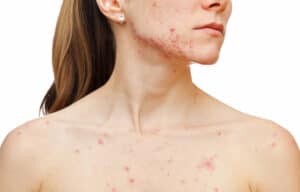 Why am I getting spots during isolation? Due to the Covid-19 pandemic, we have all experienced lockdown this year. We're wearing less make-up, getting more rest, we're even getting an hour of fresh air and exercise every day and if there's one thing we all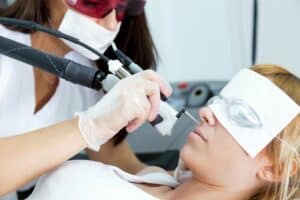 Benefits of Laser Hair Removal for the face Despite it being a common complaint, many women suffering with unwanted facial hair are still unsure of what they can do. Waxing and electrolysis can be painful, with results not always as precise or long lasting as