LASER HAIR REMOVAL MANCHESTER
We offer laser hair removal in Cheadle, Manchester and can treat all the areas of the body and face. Many people often ask if it's possible to undergo two areas of the body at once, which it is. Before your laser hair removal treatment starts, you will require a consultation which will allow us to select the right laser setting for your skin type. We use this to achieve the best results possible for you as an individual. Treatment frequency depends on which area we are treating and the type of hair. During your consultation, you will also have a patch test to see how your skin reacts to the laser light.
You will need a course of laser hair removal treatment. This is because hairs grow in a cycle with three phases. When the hair is in the growing or anagen phase, it has a strong root and has a lot of pigment associated at the root (Perifollicular melanin). If you pluck a hair out in this phase you can see the larger darker root. These hairs are perfect as they attract the laser and absorb the energy. This, in turn, makes the whole root structure get hot and destroys or disables the structure so hairs cannot regrow.
Hairs in the other stages of growth don't have a lot of pigment and will not respond as well to laser hair removal treatment. In addition to this, hairs can go into a rest period for different periods of time, therefore, we can never treat them all in one go and a course of treatments will effectively catch them all at the right stage.
Laser Hair Removal is one of the most popular treatments at Everything Skin Clinic. It is definitely the most popular laser procedure in the world. It has been around for over 20 years and there have been millions of treatments performed worldwide.
It's also a great treatment option for people suffering from medical conditions that result in excessive hair.
HOW DOES LASER HAIR REMOVAL WORK?
Laser Hair Removal uses laser technology to specifically target the hair root to destroy it stopping it from growing back again. It works by beaming a highly concentrated light into hair follicles, when this happens, pigment in the follicles absorb the light and this destroys the hair.
The heat produced by the laser damages the hairs at the root, preventing regrowth. We protect skin from heat damage by a cooling gel applied directly to the skin and by the cooling tip on the handpiece of the laser.
Here at Everything Skin Clinic, we use 755nm Alexandrite laser for lighter skin types and NdYAG 1064nm for darker skins the Duetto enables us to mix the two wavelengths to give the safest most effective treatment on all skin types.
FREQUENTLY ASKED QUESTIONS
Please fill in this form and one of our team will give you a call back to arrange a consultation with one of our expert dermatologists.
"*" indicates required fields
WHY HAVE LASER HAIR REMOVAL AT EVERYTHING SKIN CLINIC?
At Everything Skin Clinic™, we have a team of highly trained Consultant dermatologists, who have completed specialist training in Dermatology and are on the specialist register of the General Medical Council. All our consultants hold substantive contracts with the best Dermatology centres in leading NHS hospitals. Therefore, you can be certain of the highest quality private laser hair removal in Cheadle, Manchester.
We offer a range of treatments and can offer one, or a combination of treatments to achieve the best results. Unlike many other clinics, we can offer diagnosis and treatment all under one roof by expert consultant dermatologist, so you know you'll be in safe hands.
Laser Hair Removal INSIGHTS AND ADVICE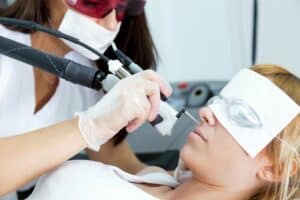 Benefits of Laser Hair Removal for the face Despite it being a common complaint, many women suffering with unwanted facial hair are still unsure of what they can do. Waxing and electrolysis can be painful, with results not always as precise or long lasting as