pulsed dye laser treatment in Cheadle, Manchester
Laser treatments for facial redness, rosacea and vascular lesions.
The pulsed dye laser has always been an important laser in the practice but the new V Beam Prima Laser gives many more additional benefits. Everything skin Clinic™ is the first private independent clinic in the UK to offer treatment with the Vbeam Laser. The new, 595 nm pulsed-dye laser has an additional 1064 nm wavelength that is efficient and versatile for the treatment of vascular and pigmented lesions on the face and body.
The Vbeam® Prima device is used to treat a variety of skin conditions, including rosacea, port wine stains, facial redness, telangiectasia (broken capillaries) facial and spider veins, venous lakes, small haemangiomas, poikiloderma, Campbell de Morgan spots, or cherry angiomas, acne, fresh scars, benign pigmented lesions, wrinkles, warts, stretch marks and sun ageing.
The new laser is the evolutionary progression of a laser that has been used in hospitals and clinics around the world for over 20 years. It is the gold standard laser for treating birthmarks and vascular lesions and can be found in many specialist centres around the world. The new laser has an added wavelength (1064nm) allowing deeper treatments, it has been developed to give faster results with less downtime than other treatments.
HOW DOES pulsed dye laser treatment WORK?
The Vbeam® is a Pulsed Dye Laser (PDL), which means it uses a special dye to generate different colours (wavelengths) of laser beams. They are then delivered to skin layers in pulses, and then absorbed by oxyhaemoglobin in the blood vessels. Because this process is selective the surrounding skin is not affected, and it remains undamaged. The versatility of the laser comes from its range of wavelengths, pulses and delivery depths. In the hands of an expert laser practitioner, the laser can give outstanding results.
The Vbeam laser has two built in cooling technologies that further protect the skin during the treatment. Cooling is used to minimize discomfort, protect the skin during treatments and minimize swelling. Before and during the procedure, cooling will be applied to the skin using a built-in cooling device in order to optimize comfort
The two types of cooling used are the Dynamic Cooling Device which gives consistent and predictable skin protection and the new EverCool technology, which keeps skin protected during treatments.
Treatment sessions can take as little as 15-20 minutes. (However, treatment time varies based on the condition and area being treated.).
There is minimal downtime associated with the Vbeam® Prima laser, with most patients resuming their normal day-to-day activities immediately following treatment. For certain conditions, your doctor may elect to perform treatments which may result in purpura(bruising) which may take longer to resolve. This will be discussed during your consultation.
The Vbeam® Prima is a pulsed-dye laser that has a very well-established safety profile and a low incidence of side effects. Most patients typically report mild swelling, mild to moderate redness of the skin, and for some conditions mild to moderate bruising.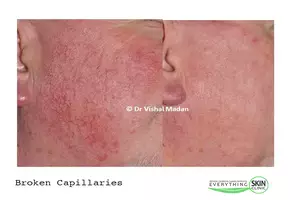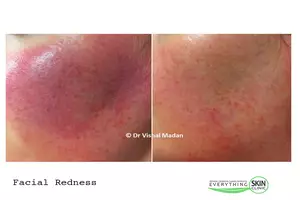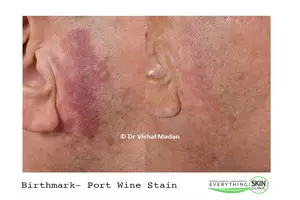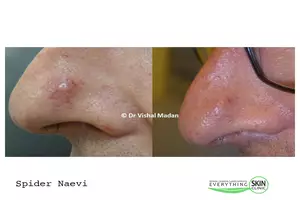 CONDITIONS WE TREAT WITH THE VBEAM LASER
ROSACEA
This vascular condition is common in the UK with one in ten people suffering. Rosacea usually occurs on the face and is most often seen on those with fair skin but may affect all skin types. It is more prevalent in people aged 40 to 60 years old. It is more common in women but when affecting men, it may be more severe. It is a chronic condition, and can persist for a long time and, in any individual, the severity tends to fluctuate. Rosacea tends to affect the cheeks, forehead, chin and nose, and is characterised by persistent redness caused by dilated blood vessels, small bumps and pus-filled spots similar to acne There may also be uncomfortable inflammation of the surface of the eyes and eyelids. There are different types of rosacea and it is important to understand the condition before attempting to treat it.
VASCULAR LESIONS
There are numerous lesions seen on the face and body caused by defective vasculature below the skins surface. These are Spider nevi, cherry angiomas, angiomas, poikiloderma, Campbell de Morgan spots and many more. These lesions can be treated on the face and body.
BIRTHMARKS
There are 2 main types of birthmarks, vascular birthmarks and pigmented birthmarks. The pulsed dye laser is the gold standard in the treatment of vascular birth marks.
Vascular birthmarks are often caused by abnormal blood vessels in or under the skin. This type of birth mark includes port wine stains.
FACIAL VEINS
Facial veins can be larger veins or broken capillaries known as telangiectasia. They can be superficial or deep and can vary in size. This range of different types of vessel calls for the versatility of the V beam Prima which specialises in treating different types of vessel.
PIGMENTED LESIONS
The V Beam Prima is indicated to treat lesions that are brown in colour such as sun damage and freckles.
Please fill in this form and one of our team will give you a call back to arrange a consultation with one of our expert dermatologists.
"*" indicates required fields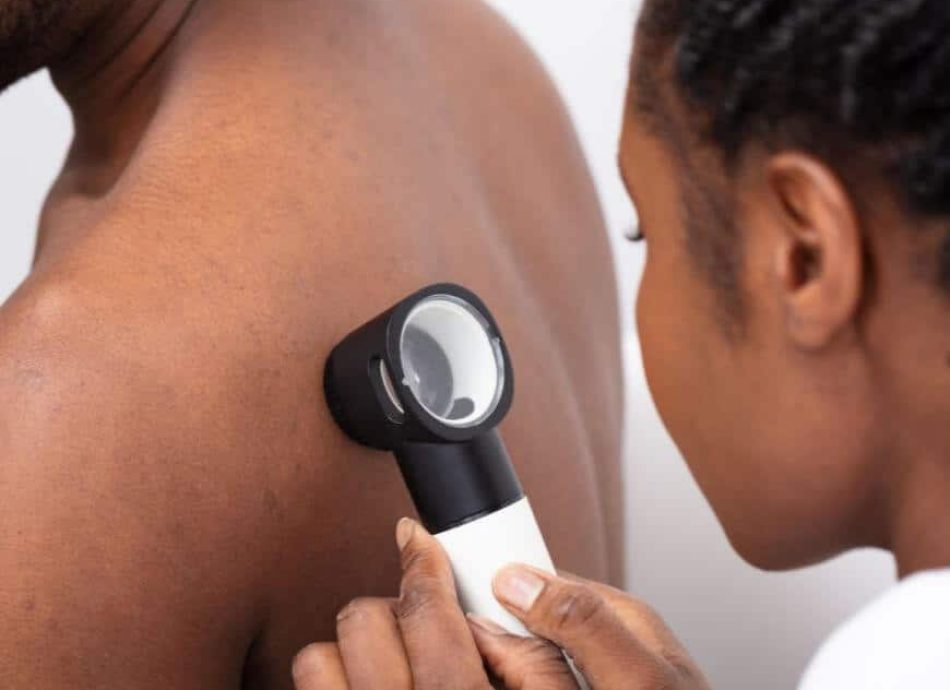 WHY CHOOSE EVERYTHING SKIN CLINIC FOR pulsed dye laser treatment?
At Everything Skin Clinic™, we have a team of highly trained Consultant dermatologists, who have completed specialist training in Dermatology and are on the specialist register of the General Medical Council. All our consultants hold substantive contracts with the best Dermatology centres in leading NHS hospitals. Therefore, you can be certain of the highest quality private care.
We offer a range of treatments and can offer one, or a combination of treatments to achieve the best results. Unlike many other clinics, we can offer diagnosis and treatment all under one roof by expert consultant dermatologist, so you know you'll be in safe hands.
Latest INSIGHTS AND ADVICE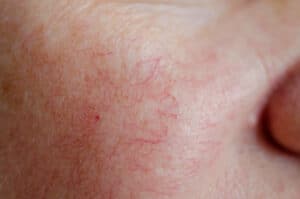 Spider Vein Treatment at Everything Skin Clinic Are you tired of constantly having to cover up your spider veins, or thread veins on the face with heavy make-up, or those on the legs with thick tights or trousers? Spider veins are the nickname that is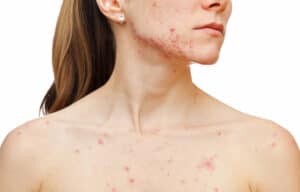 Why am I getting spots during isolation? Due to the Covid-19 pandemic, we have all experienced lockdown this year. We're wearing less make-up, getting more rest, we're even getting an hour of fresh air and exercise every day and if there's one thing we all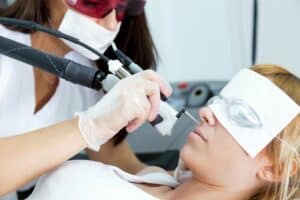 Benefits of Laser Hair Removal for the face Despite it being a common complaint, many women suffering with unwanted facial hair are still unsure of what they can do. Waxing and electrolysis can be painful, with results not always as precise or long lasting as